In our e-commerce crazed world, warehouse activity is through the roof. Keeping up with demand is tough, especially with current labor shortages and constantly increasing wages. In order to meet demand and keep your costs to a minimum, you need to do more with less. One way to boost efficiency while keeping overhead low is to invest in automation. As you read this article, you'll learn about seven different products that will immediately improve the efficiency and throughput of your warehouse.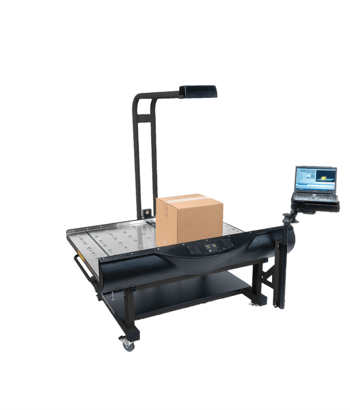 When automating warehouse tasks, a dimensioning system is essential to capture accurate product data for both inbound and outbound processes. Dimensioning systems provide reliable measurement and weight data that serves as the foundation for all parcel and SKU handling operations. To better understand a dimensioning system's impact on downstream operations, let's look at a common slotting operation.
Warehouses all over the world now use automation and robots to slot product. In this scenario, let's say that you have programmed a robot to slot SKUs. To correctly slot the SKUs, the robot uses measurement data associated with each SKU's product ID. That measurement data is accessed from your WMS and the robot then bases its slotting decision off of that data. If you use a dimensioning system to collect the measurement data, you can be confident that the data is correct and the robot will be able to slot the SKU properly. In contrast, if the product data was manually collected, you introduce the risk for human error. An incorrect measurement or mistake entering the data will throw off the process. In turn, your robot will be misguided and either damage or misplace the SKU because it doesn't fit in the recommended location.
2. SCALES
Most dimensioning systems include a scale as part of the receiving or shipping system. If a scale is not built into the dimensioner, one can be paired with it to provide needed weight data. Weight is a critical data point for most operations handling piece picking. Weight values are also required to provide accurate data for outbound carrier shipping. Choose a scale that can handle the heaviest items you process and that is sensitive enough to provide the weight and required resolution of very light items. You may need multiple scales if your receiving operation includes small parts and large items.
3. PRINT AND APPLY LABELING SYSTEMS
One of the most menial tasks in a warehouse is manual labeling. In automated operations, a print and apply system will print labels and apply them to packages in real time as the conveyor system presents each package. Print and apply labeling is a simple task that when automated can provide immediate returns. It can greatly increase your package throughput and free up laborers to work on more pressing matters.
4. BARCODE SCANNERS
Every package that enters or leaves your facility is going to have some sort of barcode. Barcodes are necessary for inbound and outbound tracking, inventory management, print and apply labeling, sortation, etc. With the amount of barcodes, license plates, and product IDs in use today, every warehouse could benefit from barcode reading technology. With any automation project, automated barcode scanning (with fixed readers) is critical to uniquely identifying items or orders. Almost every process within a warehouse will involve scanning barcodes to identify or to verify an automated process.
5. CONVEYOR SYSTEMS
If you already use conveyors to move product through your warehouse, you're in the perfect position to leverage more
automation–especially with a powered conveyor system that is controlling material flow. Having a
conveyor system
that efficiently transports items and collects data in motion is a key foundation to expanding into other beneficial activities. These may include
scanning, weighing, dimensioning, labeling, sorting, and more.




6. ROBOTS
Robots are becoming commonplace in distribution centers as facilities look to automate more tasks. Robots are capable of sorting items, unloading trucks, picking orders, and many other tasks. With newer AI and lower hardware costs than previous times, these robots are fascinating to watch in action and can provide long term ROI in many operations.
7. WMS
A warehouse management system (WMS) oversees and manages daily warehouse activity. A WMS is ideal for storing and using data to manage stock levels and to facilitate picking, packing, and shipping activities. The software tracks orders from your warehouse to a destination. Tracking orders and relaying that information to customers is an expected part of today's customer experience. The customer gets updates informing them when the item left the warehouse, when it's out for delivery, when it's been delivered, and if there are any delays.
CONCLUSION
Warehouses and distribution centers are complex operations. Automation can help simplify processes and eliminate unnecessary labor. Integrating some of the above-mentioned automated systems into your facility will help you keep up with demand as well as thrive during challenging times.
If you're interested in investing in automation to streamline operations in your facility, Cubiscan can help. Fill out the form below or call us at 801.451.7000.