Pallet dimensioning has come a long way since it was introduced to the world decades ago. Today warehousing and distribution facilities are starting to merge conveyorized machinery and automatic guided vehicles (AGVs) with pallet dimensioning systems to overcome obstacles. Automated vehicles, like forklifts and drones, need detailed and robust data to make decisions. The best way to collect that data efficiently is with the Cubiscan Contour-AKL.
Continue reading this blog to learn more about this innovative pallet dimensioner.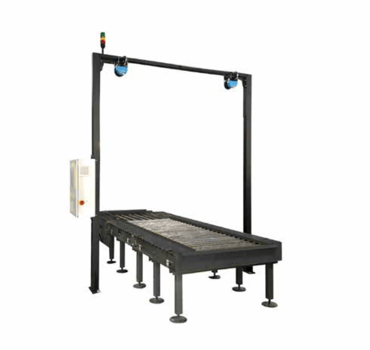 Contour dimensioning systems tell the whole story of the pallet load. The Cubiscan Contour-AKL is comprised of two LIDAR sensors and an optical distance sensor that work in tandem to provide rich contour data on the freight and pallet being dimensioned. The LIDAR sensors are mounted to an upside-down, U-shaped frame that is fastened to the floor and arcs above your conveyor. If you've ever seen a parcel dimensioner that works with a conveyor, it looks and functions in a similar way.
As a pallet load passes under the frame, the LIDAR sensors collect contour dimensional data and detect protrusions, tilt, and lean in the load. The contour system can measure items that are 8'L x 8'W x 9'H. The optical distance sensor detects the pallet in relation to the load that sits on it. This process helps determine the structural integrity of the pallet and is also helpful in identifying any overhang. After dimensioning a pallet load, the data can be sent to a WMS, PLC, or AGV.
Contour systems often work hand in hand with conveyors. When a facility uses conveyors with a contour dimensioner, the conveyor can travel up to 79 feet per minute. When the conveyor moves at this rate, the Cubiscan Contour-AKL can detect to the nearest 1 centimeter.
The Cubiscan Contour-AKL is more accurate when used statically. For it to function this way, the sensors are mounted to a sliding arm that passes over the pallet after it stops on the conveyor. The dimensioning process takes 2-3 seconds and is accurate to the nearest .1 centimeter. It's not as fast as collecting the dimensions as they move along a conveyor, but if you need the most accurate data, using the system statically is ideal.
With the Cubiscan Contour-AKL, you can use load "recipes" to better understand your palletized freight's physical condition and load accuracy. A load "recipe" is the ideal profile (length, width, height and load arrangement) that you want all pallet loads to replicate. To begin, a load "recipe" is entered into the software. As each pallet is measured by the contour dimensioner, the software compares the measured pallet to the "recipe" it's supposed to mimic. If the dimensioned pallet doesn't fall within your predefined +/- tolerance range, the pallet will "fail" and be kicked off to a different zone to be analyzed and reconfigured. This pass/fail system ensures that you don't accidentally ship out damaged product, and it prevents AGVs from trying to handle and transport damaged pallets.
CONTOUR DATA IS THE FUTURE
Our world is automating more tasks every day. Drones and AGVs are here to stay in the warehousing and shipping industries. For these machines to function correctly, they need a guide. That guide is contour data provided by the Cubiscan Contour-AKL. As space becomes limited in warehouses and more technology is implemented to overcome labor shortages, AGVs will continue to grow in popularity and use. AGVs need more than just the length, width, and height data to perform correctly. You may not need contour data today, but you likely will in the near future.
To learn about the Cubiscan Contour-AKL or other pallet dimensioning solutions, send an email to info@cubiscan.com, give us a call at 801.451.7000, or click the button below.